Book your stay with us on our Airbnb site.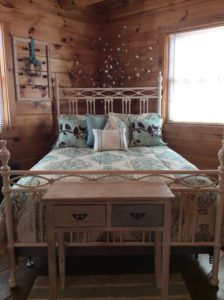 We are currently offering two rooms and a private bath in our home. Visit Airbnb for more details and booking information. We are renovating the cabin on our property to be the main B&B. Our target date to open the cabin is in 2018. The cabin was featured as one of the main sets for the 2017 film, Generational Sins. You will find some of the original props as part of the decor!
We also have camping available. Check out our listing on Hipcamp for details.