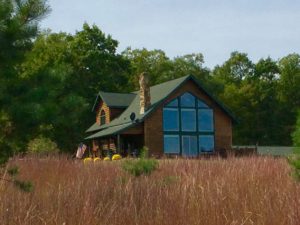 Get to know us and Oak Mountain Hideaway by following our blog! Here, we'll be sharing what's happening, what we're seeing and doing at our mountain hideaway, and the progress we're making on creating our new adventure… Oak Mountain Hideaway LLC and North Star Cottage, our new B&B and event location!
This is our dream home, and it would be safe to say, a lot of folks would dream to have a place tucked away from everything! As many of you know, we're very happy to share what we have! We have been hosting house concerts as part of the Oak Mountain Hideaway House Concert Series since 2005. We have been very blessed and it is too beautiful here to keep it all to ourselves. Thus, we've begun renovations to the cabin that was on the property when we purchased it.
A little background on our good fortune to end up with such a magnificent piece of property. We built our first home in 1979 not too far from here. We were married in May of that year and moved into the shell of our home in June. We lived there for 24 years. Ed continued to build the house as we had enough money and we raised five children. By then, the older ones were beginning to move out and we had no intention of relocating or selling our home but in 2001, this gem of a property caught Ed's eye while he was working nearby. He showed it to me and the rest, as they say, is history! We ended up buying it. In 2003 we sold our first home and moved into the hunting cabin that was on the property while we built our dream house. I designed it, Ed, our boys and son-in-law built it.
It was rustic living while building the main house with no electricity, no water, just a roof over our heads, and pleasant weather for six months. We managed to 'rig up' some power and water feeding off of the new house, with an outdoor shower on the porch of the cabin! By Christmas, we moved into the new house and the cabin has since sat vacant for 14 years.
In 2005 we had our first house concert and have been holding 8-10 of them each year ever since. We've had a lot of practice hosting guests and everyone seems to really enjoy their time here.
With all of our children on their own now, we recently opened up two rooms in our home on Airbnb. I guess you could say it's practice, for when we open the cabin. We are going to call the cabin, North Star Cottage, because… you guessed it, it faces the North Star which you can see quite clearly in our dark sky. We are far from city lights and the Milky Way spans the heavens so star gazers and astronomers will find it a very good location for star gazing! If you enjoy star gazing, perhaps you would enjoy sleeping under the stars! In addition to offering the rooms in our home, we also are listed on the camping reservations site, Hipcamp! We currently offer three primitive sites. Stay tuned on updates and improvements.
The cabin may soon become famous with the release of the Hollywood film, Generational Sins which premiers on Thursday, October 5 at the historic Rowland Theatre in Philipsburg, PA. Parts of the movie were shot in the cabin and on the grounds. Be sure to check out the film! Then come and stay with us to see the authentic 'movie props' that will become part of the decor in North Star Cottage.
We're very excited and full of ideas of what Oak Mountain Hideaway will have to offer those who love the outdoors, peace and quiet, music, and opportunities to learn and to experience solitude, or community, in a stunning natural environment! We hope you will follow our blog to keep abreast of all that's happening and to learn of future plans and upcoming events!
'till next time… Anna Marie